We all know that travelling with our kids ain't easy… We can all use some great life hacks that will make our travel easier.
So parents, check out these top life hacks for travelling in the car with kids. Big car trips can be boring for the little ones, so it's up for you to be prepared.
Let's begin with these cool life hacks :
1. Car travelling fun bags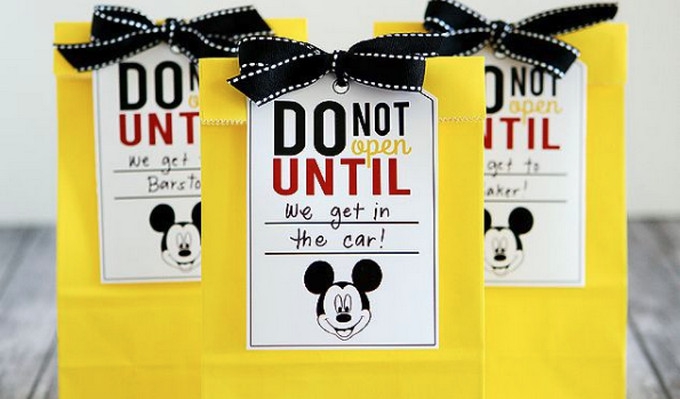 Eighteen25 made their Disneyland trips as magical as possible by creating these gorgeous Disney Trip Fun Bags. Inside there are stickers, toys, Disney gift cards and other neat (and cheap) items that kids will love. As well as bags for when the kids got into the car, they also had bags labelled 'Do not open until we get to the hotel!'. This is a great idea for keeping the kids surprised and entertained. You can tailor each bag to each car trip you go on – if you're going to the sea, include puzzles and toys to play in the sand – there are so many different things you could do!
2. Use a shoe organiser in your car
Hang a shoe organiser over the front seat headrest and fill it with all the items you'll need on your long car journey. If you have babies or young children, consider putting in baby wipes, toys, snacks, nappies – if you have older children pack in books, snacks and things for them to do. If you're on a journey with adults fill it with delicious snacks and drinks! You might also want to include a first aid kit, tissues and car cleaning products.
3. Let them sleep
Here's a great tip – if you have children, set off in the car when it's time for bed. If you travel in the day you'll have to make lots of stops, for visiting the loo and for eating. Travelling in the evening will mean you'll have lots of uninterrupted drive time. Don't forget to dress them in their pyjamas so you can just lift them straight from the car into bed when you arrive at your destination.